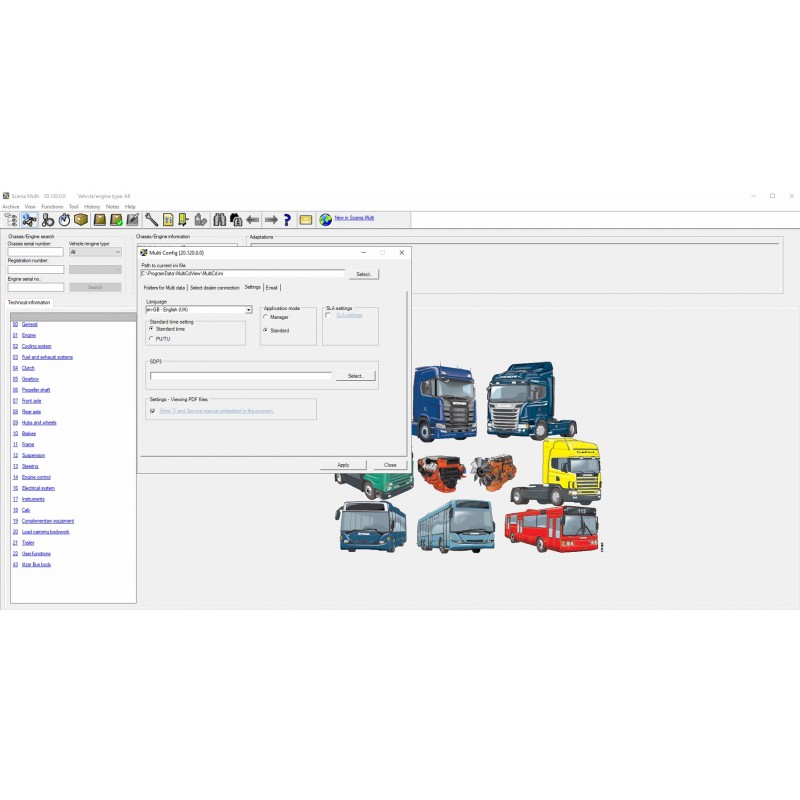  
Scania Multi 12.2020
Size: 11.73 GB (4 DVD ISO)
Region: All regions
Interface + Database languages: Multilingual (You can refer to my pictures below, They will change together)


Size: 11.73 GB (4 DVD ISO)
Region: All regions
Interface + Database languages: Multilingual (You can refer to my pictures below, They will change together)
Type: Parts Catalog, Diagrams, Service Manuals for Scania Trucks
Windows: Windows 7, Windows 10 32 & 64 bit (Tested Windows 10 pro 64-bit version 1607 and window 7 64bit ultimate)
Release Date: 12.2020
Version : 20.120.0.4
Developer: Scania
Quantity of CD: 4 DVD (4 ISO)
Data update: 12.2020 + CHASSIS and ENGINES updated from the official Scania server
Models List:

P,G,R,S truck series (2016-)
P,G,R,T seris truck (2003-2018)
4 series truck ( 1994-2008)
3 series truck (1987-1996)
F,K,N series bus (2004-)
4 series truck ( 1994-2010)
3 series truck (1987-1999)
E2011 (2010-)
P96 (1996-2017)

00. General
01. Engine
02. Cooling System
03. Fuel and exhaust systems
04. Clutch
05. Gearbox
06. Propeller shaft
07. Front axle
08. Rear axle
09. Hubs and wheels
10. Brakes
11. Frame
12. Suspension
13. Steering
14. Engine controls
16. Electrical system
17. Instruments
18. Cab
19. Complementary equipment
20. Load carrying bodywork
21. Trailer
22. User functions
43. Irizar Bus body
Etc.

The program SCANIA placed on 4 DVDs and the chassis, rules of accommodation of a saddle and axes contains the information on spare parts, accessories, and also rules of change and updating, calculation of loading on a frame, etc.

Scania Multi contains the information on spare parts, accessories for Scania cars and buses. All data is presented since 1985 for trucks, chassis-P, GR, T, 3, 4, 5 buses and F-Series, K-, N-series SCANIA, for all regions (different equipment and performance). Contains manuals and repair times. Scania Multi is one of the most advanced workshop information systems on the market. Using the chassis number, it is possible to individually tailor all the information needed to carry out servicing, fault-tracing and repairs on each individual vehicle, thus enhancing the quality and precision of the workshop's operations. At the same time, the customer benefits from a shorter standstill time.

Time savings and better quality for the customer
Precision: the right parts, times and operations from the very outset.
Easily accessible information: quick searching, only relevant information.
Rapid response: cost estimate at the first contact.
Many languages: information in 9 languages increases precision and speed.
Simple updating: only current information is found in the system.
The workshop of the future: everyone at the Scania workshop has access to the information in Scania Multi, which makes for a flexible organisation.
Local modifications are simple: Scania Multi is structured so that special adaptations can be integrated for each specific market.
Here is a typical sequence of events when visiting a Scania workshop which uses Scania Multi:
A driver observes a brake fault on his truck and drives to a Scania workshop. With the help of the chassis number, the customer receptionist calls up the truck's specification and uses Scania Multi to determine the work which needs to be carried out. The customer receptionist can thus immediately offer the customer a time and cost estimate.
The mechanic who takes on the job looks up Scania Multi to find out how it should be tackled on this particular truck, and verifies exactly which parts will be needed for this chassis number. The system despatches an order to the parts store, which fetches the relevant parts. The truck is repaired and the Scania Multi system then automatically produces the necessary documentation for invoicing the customer.
All this information is easily accessible to all users of Scania Multi. The system opens the door to a restructuring of workshop operations. The mechanic can if necessary act as a customer receptionist and can even handle invoicing and other follow-up processes.
Еще нет отзывов.